It's hugely anticipated, widely dissected afterwards and generates incredible amounts of media coverage. Party policy manifestos? No, handshakes.
The recent focus on all things grip and grin began, of course, with Trump. The U.S. President's handshakes have become legendary. His awkward encounters with world leaders have prompted hundreds of viral memes, videos and photos over the last few months, but analysts say there's more to his handshakes than just comic appeal: Trump's wide range of pulls, yanks and tugs are significant power moves intended to signal alpha dominance.
We've since witnessed other world leaders anticipate and challenge this display of dominance (we're looking at you, Macron), showing that the perfect political handshake has fast become the tactic of choice for today's politician. In a world of intense media scrutiny along with fast and furious social media, it sends a clear and powerful signal, leading to more favourable ratings that you can shake a stick (or a hand) at. Does this mean the handshake war is, in fact, a PR war? The battle to gain the upper hand (literally and figuratively) is all about image.
Here's our 'handy' guide to Trump's best encounters:
1.Shinzo Abe: A handshake between Trump and Japan's prime minister, Shinzo Abe, went viral after Trump continued the motion for a full 19 seconds. Once Abe was able to free his hands, he seemed to cringe and roll his eyes, while turning his body away from the president.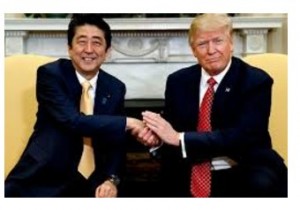 2.Justin Trudeau: This is 'hands down' our favourite photograph. In what was surely one photographer's image of the year, Trudeau glanced at the president's offering, seemingly with disdain, while the president's hand hung awkwardly.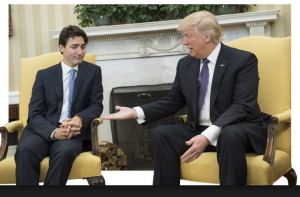 3.Emmanuel Macron: We're calling this one 'the whiteknuckler'. Less grip and grin…more like grip and grimace. If business relationships are defined by handshakes, then Trump & Macron's is going to be fierce!