We've heard from marketing and communications leaders that last year was a challenge like no other.
Events were cancelled. Playbooks were ripped up. And budgets tightened. Simultaneously, consumers changed their behaviours.
The consequences of working from home are far reaching, influencing how we communicate, the tools we use to collaborate, how spend our time, which devices we use, and the types of content we consume.
Given the momentous level of change, we ran a piece of research to examine how IT leaders consume content today versus one year ago. We wanted to find out whether content is playing a more or less influential role in this unfamiliar landscape. And we were keen to understand which channels they were using most frequently. So we commissioned a survey among senior IT decision makers.
Here's a three key findings.
#1 Content really is king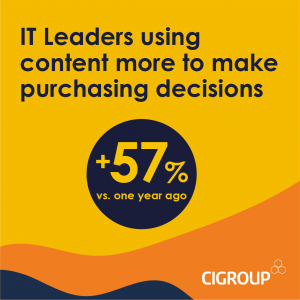 IT leaders rely on content more than they used to. Compared with just one year earlier, 57% of survey respondents said they rely "a lot more" or "slightly more" on content to make purchasing decisions, while none reported they rely on content less than a year ago.
#2 IT leaders rely on a more diverse set of channels to make purchasing decisions compared to a year ago
Our survey demonstrates just how fragmented the media landscape is when it comes to influencing purchasing decisions. And this places more pressure on marketing teams to create integrated campaigns to succeed in a more complex environment. In our eBook, we look more closely at which channels are the most influential and how brands can respond.
#3 Smaller firms are more likely to rely on webinars and podcasts to inform their purchasing decisions.
There were many differences according to company size and vertical sector in the data from our survey. But one trend struck us – webinars and podcasts play a powerful role in swaying purchasing decisions. And this was particularly the case with small and medium size organisations, while respondents within larger companies were more likely to rely on analyst reports.
Download the report to find out which types of content are most influential.
The opportunity for vendors, consultancies and resellers to capitalise on content is huge. But to cut above the noise and close more sales in a busy marketplace, marketing, communications and sales teams will need to work closer than ever before.
We hope you find our report provides you with valuable insight. And if there is one thing to take away from this eBook, it's the need for authentic story telling through integrated communications programmes which put the customer at the centre.
Building an integrated communications strategy which furthers your overarching business goals requires careful planning. We can help you to map out the actions you'll need to take to achieve your goals. Find out more on Which Content will be Most Influential in 2021?tbcredit.ru