What do scarves, chutney, chocolate, ear phones and lingerie have in common? They're all products that have been included as gifts in bespoke Christmas crackers for companies across the UK and Europe by Simply Crackers.
The jumbo crackers, measuring 60cm x 13cm, can be tailored to a company's own design and branding requirements and include any gift of their choice. Gifts can include mini prosecco, cheese and chutney miniatures, jewellery and pens as well as an organisation's own products such as money off coupons, catalogues, invitations or branded gifts including keyrings, USBs and magnets.
Organisations can tailor the process at every step, working with Simply Crackers from design and artwork through to order details and the final delivery of crackers.
The British company, which has been trading for 35 years, provides branded crackers for a range of major international brands.
Promotional activity & product launch.
200 jumbo crackers were manufactured for Bjorn Borg sportswear, filled with lingerie items from the latest collection for both men and women. The crackers were handed out at a launch event in London earlier this year as part of the sports fashion brand's UK expansion.
Other brands which have worked with Simply Crackers on promotional activity include Colgate who ordered 6000 crackers containing toothpaste samples to give to customers at Superdrug stores across the UK in the run up to Christmas, and Nescafe who included vouchers in mini crackers, handing out 9,000 of them outside supermarkets.
Celebrity & media engagement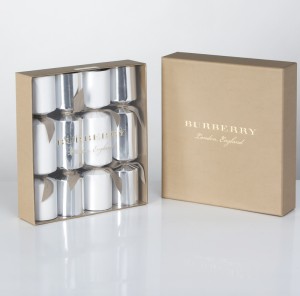 Jumbo branded crackers for Spotify included a branded water bottle, mini speaker, bottle stop, shot glass, sleeping mask and ear phones. They were sent to stakeholders and media across the UK and Europe last Christmas to help promote the digital music service as the top music streaming app.
Festive retail
Coming soon to John Lewis! This year, Simply Crackers is working with Scottish drinks brand Boe Gin to create bespoke crackers each containing a mini gin bottle, hat & joke. Boxes of four will be on sale in John Lewis this Christmas.
Celebrated homeware retailer Cath Kidston has used jumbo crackers in their distinctive floral pattern to decorate their shop windows in their UK stores during the festive season.
Geine Pressendo, managing director of Simply Crackers, explains:
"Crackers are a fun, interactive and unique way to showcase a brand and reward customers or staff, especially over the festive season. I've also noticed a real trend towards jumbo Christmas crackers containing high end gifts – quality chocolates and useful branded gifts such as notebooks and keyrings are proving particularly popular. These supersize products really deliver a supersize impact and a truly unique experience for the recipient, be they an employee, customer or client."
The Leicestershire-based company has worked with major international brands including Mulberry, Nickelodeon, Carluccios, Heineken and the BBC.
For more details visit www.simplycrackers.co.uk